I currently use both Beehiiv and Convertkit to run email newsletters. Both are an integral part of my blogging tools collection.  I use both because both, IMO, cater to different types of email newsletters.
Let's just say both Beehiiv and Convertkit are the email service providers (ESP) du jour.
I've been using Beehiiv for 6 plus months and Convertkit for several years.  I know both ESPs well. Better yet, I know for what types of newsletters it's the best ESP.
Nutshell: When should you go with Beehiiv? When Converkit?
Short Answer:
I use Beehiiv for my large (47,000 subs) B2C email newsletter where my main goal is to drive readers back to my site.  This newsletter, while larger, earns much, much less per subscriber.  That's why the $99 per month Beehiiv charges me makes Beehiiv ideal.
I use Convertkit for my smaller, but more niche newsletters that focuses on selling info products (i.e. my courses and coaching).  This newsletter has 19,000 subscribers and while Convertkit costs far more than $99 per month, this newsletter earns far, far more both in total and per subscriber.
Beehiiv is ideal for email newsletters that are a lower value per subscriber and hence end up with many subs.  Specifically, Beehiiv's strengths are as follows:
Cost: You have plenty of subscribers but don't want to pay a fortune
Broadcasts: You send mostly broadcasts
Driving Traffic to Websites: Your emails include curated content and/or links to articles on the Web
Multiple email newsletters: You can have multiple email publications in the same account which can come in handy and keep your cost down.  Not so with Convertkit.  Before Beehiiv, I had to have multiple Convertkit accounts, one for each email publications.  Yes, I could have distinguished them with tags in the same account, but that's not ideal.
=> Try Beehiiv here
Convertkit is ideal for newsletters that are high value per subscriber. These are usually very niche and sell something requiring more advanced segmenting, funnels and segmenting.  Specifically:
3rd party integrations: Convertkit directly integrates with an absolute ton of 3rd party software. While Zapier or Integrately works with Beehiiv, that's an added cost and step I prefer to avoid.
Automations: If your newsletter includes automated sequences, rules, and advanced segmenting, there is no better ESP than Convertkit.  I have tons of segments and sequences that work flawlessly and are super simple to set up.
Sell stuff:  If you sell info products or software, Convertkit is the best option.  You can integrate Stripe with Convertkit so that Convertkit itself generates sales. Alternatively, Convertkit integrates with all kinds of 3rd party software such as Teachable to sell stuff.  By integrate, I mean you can set up rules so that buyers are tagged and/or added to sequences.  It's very powerful.
=> Try Convertkit here
History: My Email Provider Background
I've been doing email marketing as part of my online publishing business for many years.  Here are the providers I've used to date:
While I haven't used every ESP, I've used enough to know what's good and what's bad.
Anyone who has been into email marketing for any length of time will recognize some or all of those providers. They're all major players.  I won't comment about AWeber, GetResponse or Mailchimp other than to say I don't use them anymore.  Take from that what you will.
Cost
Beehiiv: 47,000 subscribers with multiple email publication option: $99 per month

Convertkit: 19,000 subscribers: $279 per month.

Beehiiv is so great because it's only $99 per month for up to 100,000.  Convertkit costs way more than that for fewer subscribers.  I publish more than one email publication. Not all are super lucrative. For instance, I have one with 47,000 subs and the best thing I can do with it is send readers back to my site.  In this situation, paying hundreds or thousands per month for an ESP such as Convertkit is not worth it.
The Writing Editors Compared
Beehiiv's editor is much better than Convertkit. Beehiiv's is far easier to use and it offers more options.  The result is that you can create better-looking email newsletters with more features using Beehiiv than Convertkit.
Here are screenshots of each:
Beehiiv editor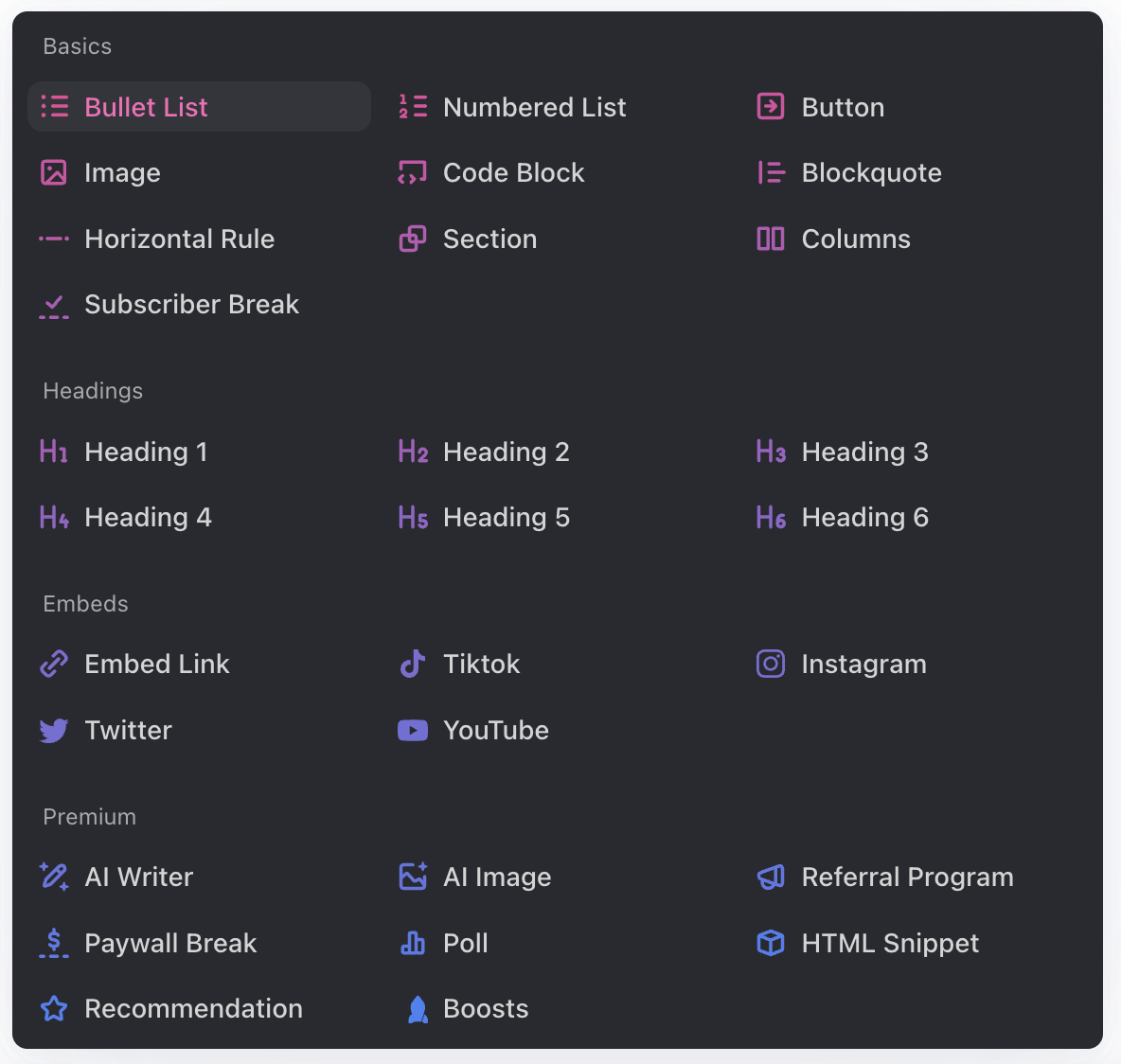 Convertkit editor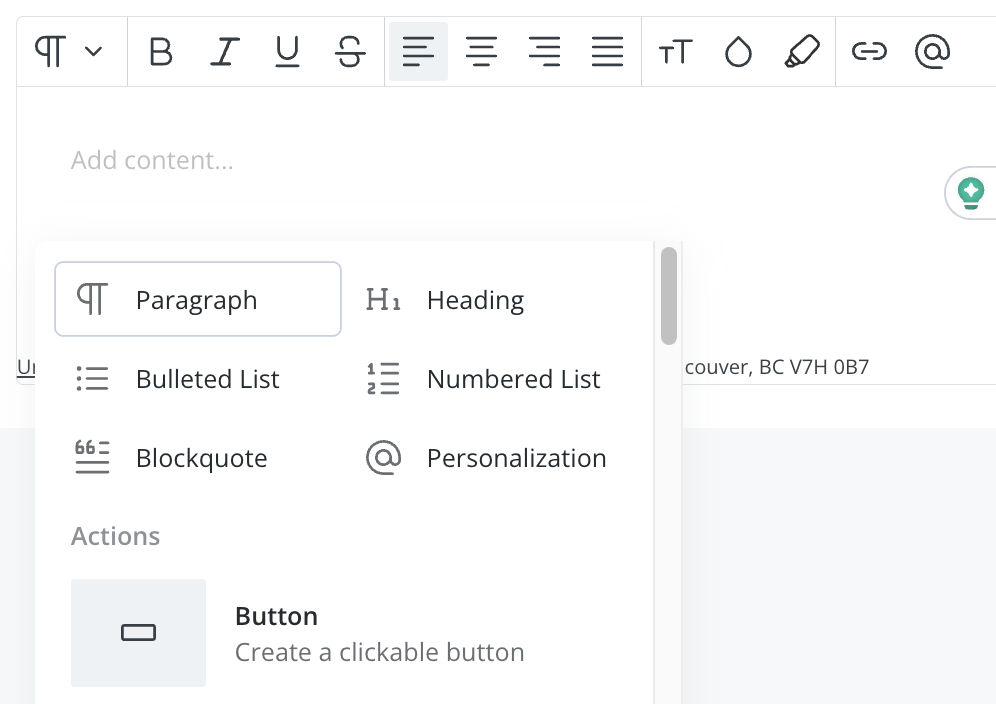 IMPORTANT CONVERTKIT PET PEEVE OF MINE: This is one of the most annoying things about Convertkit and that is there is no "undo" function in the editor.  This has cost me many times.  Sometimes I accidentally remove all the text (don't ask me how this happens but it has) and I can't undo that. Super, super annoying.  You would think that in 2023 the editor would have an undo option.
Broadcast Emails
I send broadcasts with both.  Beehiiv's editor is better for sending traffic back to a site because it has a URL embed option that automatically populates the featured image, title and links to the article. This is one of my favorite Beehiiv features because it speeds up email newsletter creation.
Curated Newsletters
Without a doubt, if you publish a newsletter that curates content from the Web, Beehiiv is your best option by far because of the URL embed feature.  This is assuming you want to display the featured image. If you're just linking text to articles, both will work.
Check out Beehiiv's URL embed feature in the editor

Here's the resulting post. Note you can change the design so that the image is to the left or on top of the title.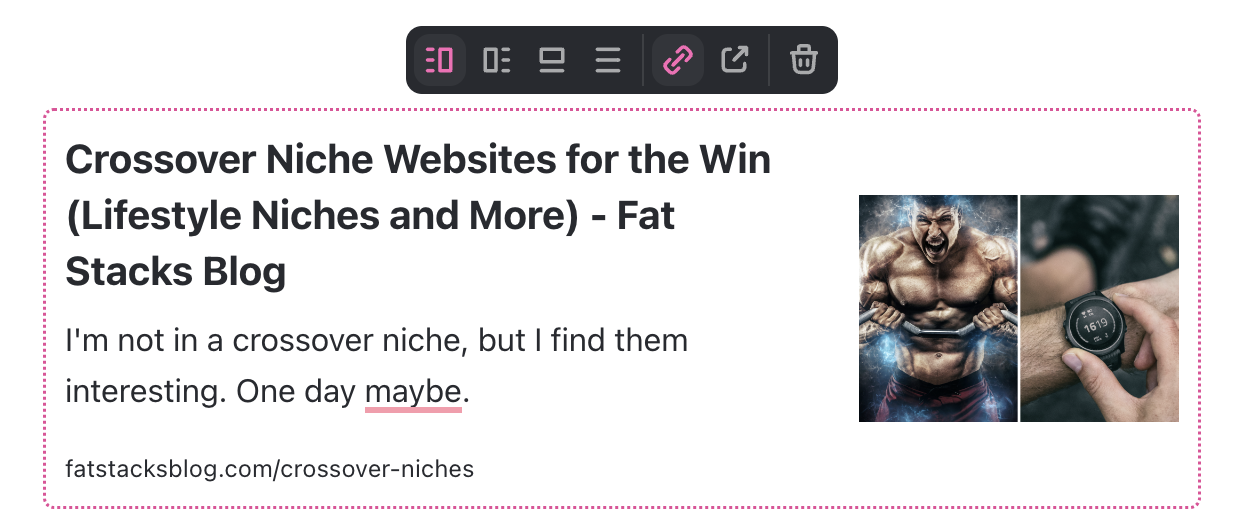 Email Writing Editor Winner: Beehiiv
Integrations
By integration, I mean being able to integrate with 3rd party software such as Teachable and Convertbox.
While Zapier and Integrately can integrate Beehiiv with many 3rd party software, I much, much prefer direct integrations.  Zapier and Integrately aren't cheap for one.  The bigger issue is I've had it integrations break using those tools which is a hassle. It's another thing to fix that doesn't happen with direct integrations.
Beehiiv directly integrates with very few 3rd party software while Convertkit is seemingly built to integrate. Convertkit integrates directly with every 3rd party software I use and then some. I should say many because the list of software that Convertkit integrates with is unbelievable.
Integrations Winner: Convertkit (it's not even close)
Automations: Segmenting, Sequences and Rules
Convertkit beats Beehiiv hands down when it comes to automations, segmenting, sequences and rules.  It's not even close.  While Beehiiv has sequencing, it's not nearly as robust as Convertkit. That's largely due to Beehiiv's lack of integration.
For example, I sell a course on Teachable.  With Convertkit, I can create a rule that tags purchasers of the course. This way I can segment course buyers.  This is a must-have feature with email when selling something.
Both offer visual automation set up which is good. It just so happens that Convertkit's automations, segmenting, sequencing set up and tagging is much much more robust AND easier to use.
Automations and Segmenting Winner: Convertkit
NOTE: This could be the dealbreaker functionality in favor of Convertkit. It is for me.  Some newsletters require powerful segmenting and automation. If that's the case with you, then go with Convertkit. All the other features aren't worth giving up these capabilities.
Monetization
Both Convertkit and Beehiiv offer methods to make money with your email publication.  This is separate from your own efforts such as affiliate links, selling sponsorships/ads and selling your own stuff.
Beehiiv revenue opportunities:
Sponsorships:  When you join the partner program, Beehiiv will provide you sponsor opportunities. I've run several of them.  You (the email newsletter owner) are paid per click. I was paid $1.00 per click. I've made over $1,000 to date from these deals.  Is that good? Nope, not really. It's certainly not anywhere close to what the Beehiiv revenue calculator suggested I would earn.  Moreover, you must put the ad, which includes a title, image and quite a bit of text at the very top of the newsletter.
Boosts: You can offer up your newsletter to earn promoting other newsletters. I don't do this either.
The problem I have making lots of money with Beehiiv's revenue opportunities has nothing to do with Beehiiv. It has to do with the niche I'm in.  It's a B2C lifestyle niche. It's not business-related.  If I had my Convertkit newsletter on Beehiiv, I'd be earning quite a bit more.
Convertkit revenue opportunities:
Sell stuff with the Convertkit product landing page and cart: This is kind of cool actually. Convertkit offers a purchase landing page and cart built in.  I've used it. It works.  I prefer Teachable's cart and Thrive cart but if you're just getting started, Convertkit's cart is free.
That's about it for earning opportunities built into Convertkit. If you get Sparkloop, you have other options at your disposal.  I joined Sparkloop's Partner program where you get paid for promoting other newsletters. I promoted two newsletters and made $52. Check it:

Keep in mind that's from one email.  That said, it's not terribly scalable.  The first few times you promote relevant newsletters, revenue will be decent but once the majority of your subs see the offers, they won't bother.
Frankly, $52 from 19,000+ subs isn't very good so I haven't bothered to continue promoting other newsletters.
I'd much rather promote other newsletters on a quid pro quo basis.
Tip jars: I think both offer tip jars. I'm not a fan of tip jars in emails or on websites so I have nothing to say about it.
Email Newsletter Monetization Winner: Beehiiv
How to make the big bucks with email
The big bucks with email newsletters comes down to your niche and/or size.  Let me explain.
High value per subscriber niches are typically business niches and desperation niches (health, wealth and relationships).  That's a sizeable generalization but it's overall accurate.
Low value per subscriber niches are hobby and lifestyle niches.  The only way to make big bucks with these niches, which is most niches, is to get millions and millions of subscribers.
Sign Up Forms and Landing Pages
Both Beehiiv and Convertkit fall short here.
Beehiiv doesn't offer forms.  The landing page is okay.
Convertkit's form and landing page designs are lacking. I use the CK landing page because I use the the Creator Network but otherwise I much, much prefer Leadpages.
For sign up forms I use Convertbox (awesome) and Mediavine's spotlight (very good).
Form and landing page winner: None
Reporting Capabilities
Both offer decent reporting. I find that neither lack in this regard.  Beehiiv's reporting is snazzier.  Convertkit's is simpler but just as useful.
Broadcast reports compared:
Here are screenshots of both reporting dashboards for an individual email broadcast:
Beehiiv broadcast email report



Convertkit broadcast email report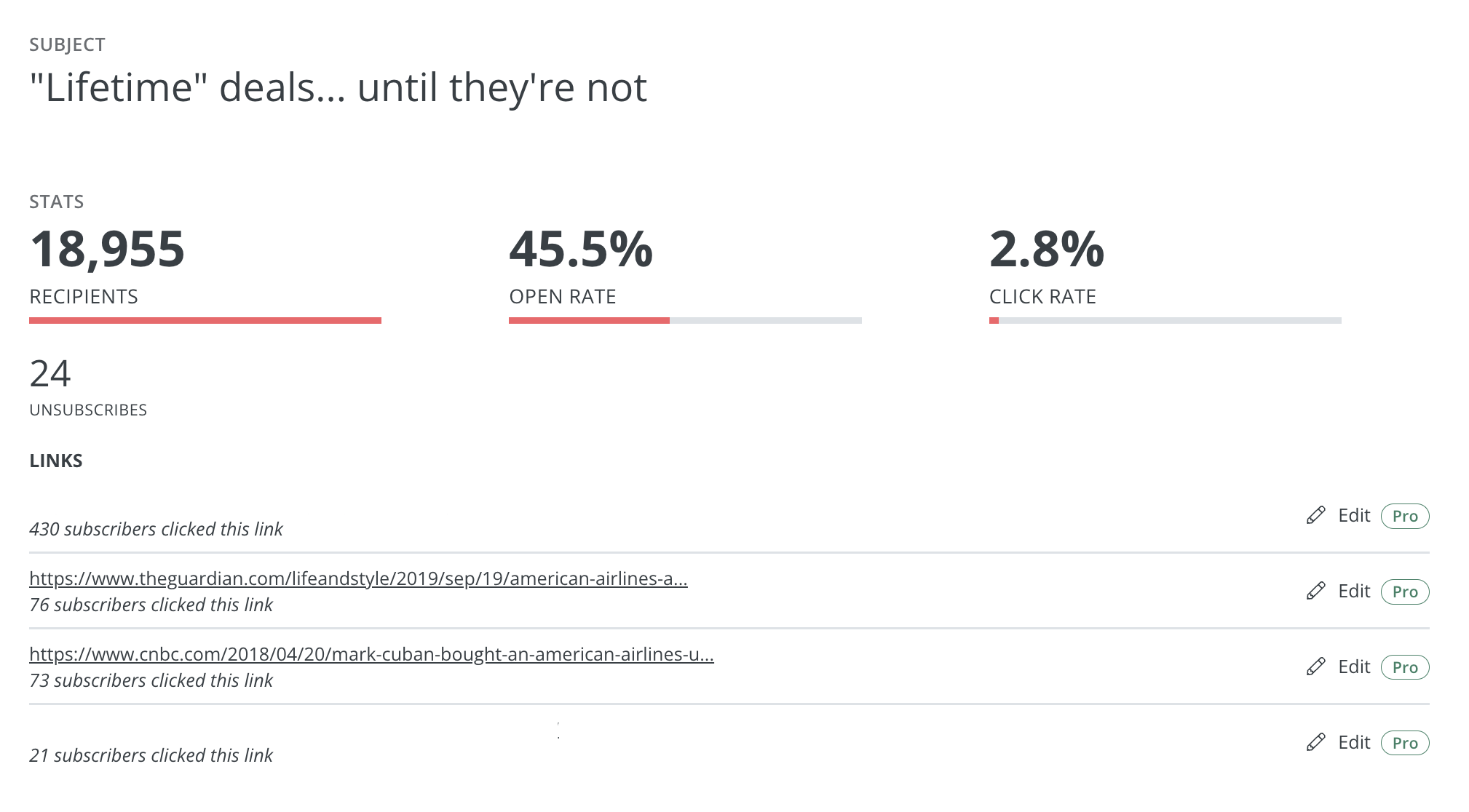 As you can see, the broadcast email reports provide the same information more or less.
Reporting Winner: Tie
Growth Tools
Both Convertkit and Beehiiv offer a suite of growth tools aimed at getting more subscribers.
Beehiiv has more and better growth tools built into the platform.
If you join Sparkloop, which integrates seamlessly with Convertkit, you'll enjoy the same set of growth tools.  The downside is it another monthly cost.  Yup, Convertkit monthly fees add up.
Beehiiv growth tools:
Referral link: You can quickly add a referral link that rewards readers for referring subscribers.
Recommendations: This is a network inside Beehiiv that you can join where you recommend other newsletters and they recommend you.
Magic links: This is kind of cool. When a subscriber in a Beehiiv clicks this link, they are automatically added to another Beehiiv email publication that you specify.  I particularly like this feature when you have multiple publications with crossover in Beehiiv. I used to but I sold the second publication.
Boosts:  You can pay other Beehiiv publications for subscribers on a per subscriber basis.
Convertkit growth tools:
The only growth tool Convertkit has built into the platform is the Creator Network. This is the quid pro quo arrangement where you promote other newsletters and they promote you in return.  It's quite good in business niches.  When subscribers sign up to your email, a popup with up to 5 other newsletters shows up that those subs can join with a click of a button.
If you want the other growth features that Beehiiv offers, you need to pay for Sparkloop.
Winner: Beehiiv
User Experience
Convertkit is easier to use and figure out than Beehiiv. I had a hard time learning how to use Beehiiv. Convertkit is much more intuitive throughout the entire dashboard.
That said, software UX is subjective so don't base your decision on what I think.  I'm just putting it out there because it should be addressed.
Subscriber Growth Tools Winner: Convertkit
Don't sweat the decision
Listen, you won't really know which ESP you prefer until you try them out.  If you choose wrong, not a big deal. Cancel, export your subs and import into the other.  The only cost is time.
I used to have all email newsletters with Convertkit. I took a chance on Beehiiv for my lifestyle niche newsletter and that proved to be a good gamble.  Now I have the best of both worlds for both newsletter.
=> Try Beehiiv here
=> Try Convertkit here

Jon Dykstra is a six figure niche site creator with 10+ years of experience. His willingness to openly share his wins and losses in the email newsletter he publishes has made him a go-to source of guidance and motivation for many. His popular "Niche site profits" course has helped thousands follow his footsteps in creating simple niche sites that earn big.