As a blogger, you might think creating and posting blogs is the most important aspect of growing your audience.
Though that's true to a certain extent, there are many more things that need to be done to ensure you build and maintain a direct connection with your audience and consistently keep growing, as traffic from Google can be variable. The same is true with social media, as their reach keeps changing based on their algorithm.
Here's where having a newsletter comes in handy. First, it helps you easily communicate and stay in touch with your audience.
Newsletters are a great way of informing your readers about new blog posts, limited-time offers, and many other updates. A newsletter can also improve your reputation among readers and increase your blog's traffic.
In this blog, we'll discuss the advantages of having an active newsletter as a blogger and some tips for maximising your email list.
We'll also review some tips for producing newsletters that work and expand your subscriber base. Therefore, whether you're a new blogger or hoping to advance your email marketing, this post has something for you.
What is a newsletter?
In today's world, a newsletter refers to a sequence of emails sent at regular intervals, such as daily, weekly, bi-weekly, etc., to email subscribers who have given consent to receive these emails.
These emails can be content-based (includes blogs, insights, etc.) or marketing emails; as a blogger, it's better to stick to content-based emails, which will help you achieve a better engagement rate and build your reputation over time.
Starting a newsletter is very easy with EmailOctopus; create your account and start sending emails to your contacts and subscribers in no time.
Benefits of having a newsletter as a blogger
There are several benefits of having a newsletter as a blogger; let's look at a few benefits.
You get to own your audience
You might think you are getting good traffic from Google and social media, but that's only until algorithm changes do not hit you.
Relying solely on this traffic from search engines can be risky as Google and others keep changing how they prioritise content. For example, look at the below image on organic traffic dropping, which is probably due to changes by Google.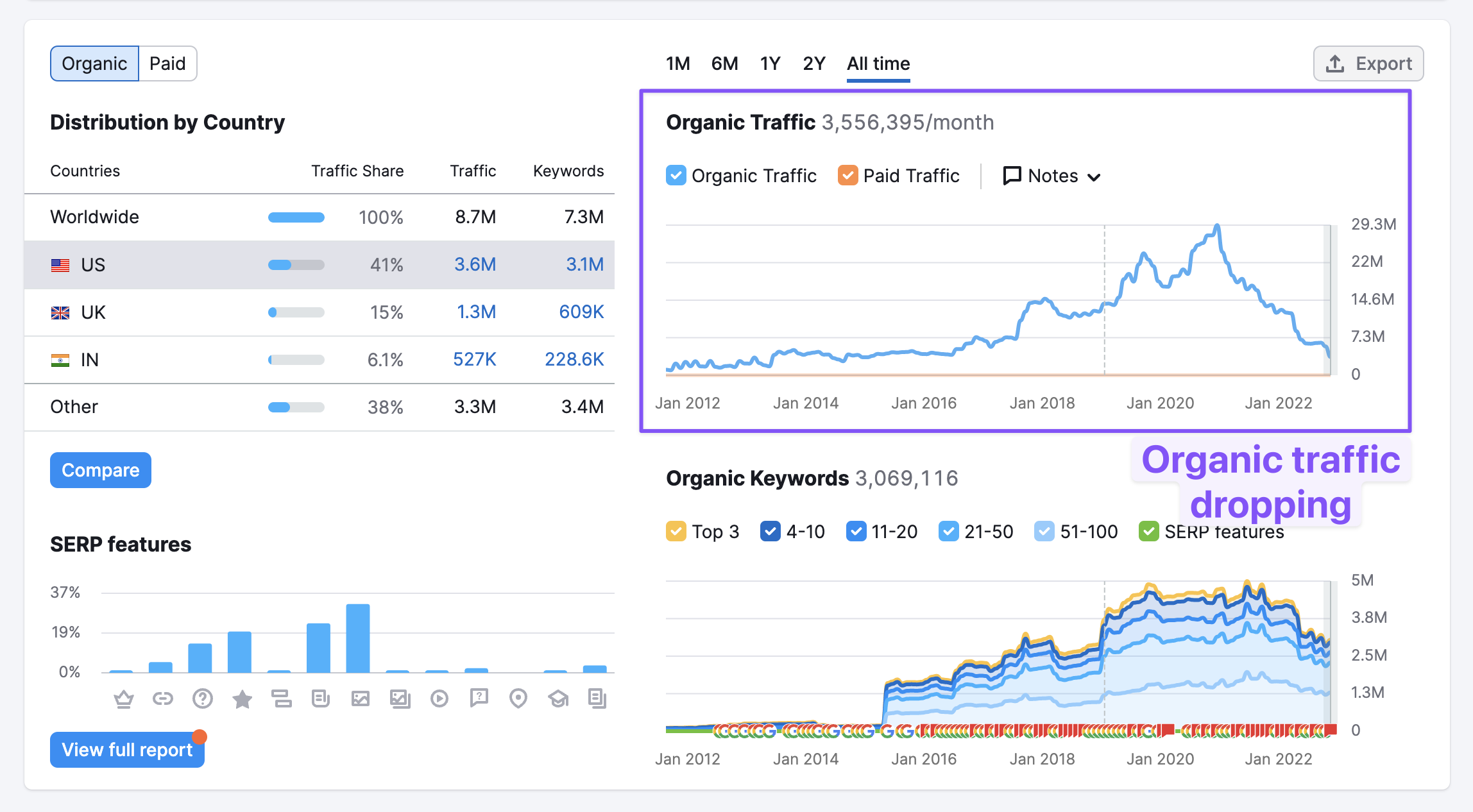 The same is with social media platforms, and one such example was Twitter, where Elon (CEO of Twitter) decided to prioritise Twitter Blue users over other users. Many more changes happen daily that go unnoticed.
A newsletter is a solution to a certain extent for this; you can have your regular readers on your email list and notify them weekly or bi-weekly of any new content you made online.
No matter what happens with social media platforms and search engines, you can maintain a direct connection channel with your audience by developing a newsletter list.
Promote your other ventures
Newsletters are also a great way to promote all your other relatable projects to the audience of your already established blog.
Let's try to understand this with an example. Assume you have a blog on personal health and fitness with an active newsletter, which has been doing good, and now you've been planning to launch your ebook.
In this case, you can easily promote your ebook in your newsletter and ensure the ones who read your content often get to know about it, and because they have known you – it's a more straightforward conversion process.
Easily connect with your audience
Another big benefit of having a newsletter is the seamless connection that you can have with your audience. By signing into your newsletter, your audience is giving you consent to receive emails from you. This makes it very easy to connect with them whenever you wish.
This regular communication from your end also builds trust and relationships, which goes a long way in building a brand around your blog.
Let's imagine you run a blog which talks about your marketing insights. Without a newsletter, your audience will only be able to read recent posts when they search about them but with a newsletter, you can directly deliver the same in their inbox. In the long term, this builds your reputation around your niche among your audience.
Increase revenue
A newsletter is also a great way to increase your revenue with little investment. You can easily find sponsors for your newsletter who can provide a good amount to get their brand in front of your readers.
For reference, Marketing Examples, a popular marketing blog and newsletter, charges $7,500 per issue of their newsletter, which is sent to 115k subscribers.
Adding visitors to your newsletter
Now that you know the benefits of having an active newsletter as a blogger, let's see how to capture and add your audience to your email list.
Pop-ups, on-page signup forms, and providing freebies in return for contact information are some of the most popular strategies to get people to subscribe to your newsletter.
Let's take a closer look at each of these strategies to help you choose which approach would be most effective for your blog.
Pop-up forms
Pop-ups where disliked in the past because they were intrusive and disrupted the user experience. Still, with time pop-ups have made a great comeback by improving user experience it provided.
It's also a great way of asking your audience for their emails based on events, like showing up the popup based on their time on the page or just when they are about to leave your blog.
You can have many more varieties of pop-ups to increase the number of people who subscribe to your newsletter. For example, when a visitor initially arrives on your website, entry popups appear. Entry popups can be very effective because they immediately grab visitor's attention.
Do keep in mind sometimes entry pop-ups can be annoying and disrupt the user experience. This is true especially if they appear immediately; it's recommended to delay it's load so the user can at least start reading and get to know about the content.
In addition, these popups can be tailored to provide something worthwhile in exchange for the visitor's email address, such as a free guide or ebook.
On-page signup forms
On-page or embedded signup forms are the ones that shows up on your blog while the user is reading the content. These signup forms appear alongside, above, or below your content.
Growing your newsletter subscribers list is easiest with on-page signup forms, as the readers can signup the moment they start getting value (while reading important sections in your content).
Provide freebies for subscribing
Freebies can be powerful if you need to help persuade visitors to subscribe to your email newsletter. Offering visitors with a freebie in return for them subscribing to your list is a good practice because they are getting something in exchange for providing their email address. Also, this starts your journey of building one-on-one communication with your subscribers.
This freebie can be a book, access to a private community, some coupons or anything you think would excite the user and be helpful to them.
You can either add a form on your website both as a pop-up or an embed form where most of your audience can see it.
Conclusion
Every blogger who wants to engage with their readers and develop their online presence must have an active newsletter.
You can save time and effort by using EmailOctupus's user-friendly interface and sophisticated capabilities so you can concentrate on producing high-quality material for your viewers.
It provides a selection of templates, automation functions, and analytics tools that may be used to track your success and optimise your newsletter campaigns.
Whether you're an experienced blogger or just starting, start a newsletter and see results yourself.